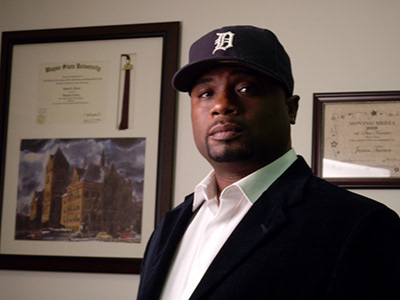 I prayed and asked God to please show me my purpose. Later that evening as I drifted off to sleep, I got a response. A voice came to me and asked me: what would you do if you were already rich? When I woke up, I had my answer; I'd make movies. I immediately changed my major to Film Production and never looked back.
My goal is not just to make movies, I want to change people's lives with the movies that I make. I aim to ease people's anxieties with entertainment, and to motivate them to be the best person they can be with well-placed high impact dialog. In my short film Blink Of An Eye, the moral to the story is that God has a wrath too. Destiny's Calling is designed to make people feel better about not being rich. The Highland Park Documentary is meant to instill pride in the residents of a historic city and to attract investors. The Life of Reggie McKenzie is going to show the power that one man has to change an entire community. And Noble Intentions is meant to help people understand and empathize with young men who delve into the street life.
I realized early that movies have the power to shape people's worldview, that sparked my curiosity. I wanted to know how movies were made and why they make people feel the way they do. Now that I have an in-depth understanding of the medium and its impact on people, I use that power to enlighten and uplift them.
I further realized that no matter what the subject matter, there is a way to empower people within the story. Driving Miss Daisy, on the surface seemed like a slave-mentality movie with a Black man driving an uppity rich woman around. It sounded depressing to me; I didn't want to see it. Then I watched it, because Morgan Freeman is my favorite actor, and instead of feeling depressed, I was uplifted. It was brilliantly written to show that Black men are smart too. That movie showed me the power of dialog and deepened my commitment to film making.